Welcome to Benny's Meat Market
---
Benny's is a local family owned & operated small business located in Hutchinson, MN. Benny's is your old fashioned home-town meat market that specializes in our own in-house recipes for items such as pepper-sticks and beef jerky and we do our own smoked meats in house! All our ground beef is ground fresh daily and if you are looking for a fresh cut of meat you've come to the right place!
12/24/16 Christmas Eve hours:  9:00 am – 1:00 pm
There is still time to order your holiday foods! Call in and place your order and we will have it ready for you when you stop in. Items in the photo are:
Gift box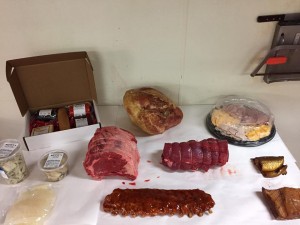 Home smoked ham
Meat and cheese tray
Pickled herring
Oysters
Prime rib (boneless or bone in)
Beef tenderloin
Smoked whitefish
Smoked salmon
Lutefisk
Precooked BBQ Ribs
Call 587-2622 to place your order!
From our family to yours we wish you a very Merry Christmas and a Happy New Year!
Safe Travels to all!
Benny's Meat Market